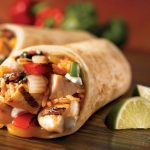 Print Recipe
Barbecued Chicken Burritos
Just because you are trying to eat healthy, it doesn't mean that you can't enjoy your food. This recipe serves 4 people, and has only 304 calories per serving.
In a large skillet, heat the chicken, barbecue sauce, corn, beans, and sour cream, over medium heat. Cook until hot, for about 5 minutes.

To assemble the wrap, place a piece of lettuce in the center of each tortilla. Top it with ¼ of the chicken mixture. Roll it up like a burrito. Slice each burrito in half, and serve with lime wedges.

Why Fast and Healthy Recipes are Best

Rather than going to a fast-food restaurant when you don't have much time to eat, you can make a healthy meal in your own home in about 20 minutes. Each of these recipes is delicious and good for you.