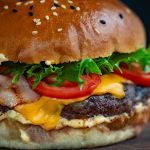 Print Recipe
Crab Cake Burgers
These burgers have a great crab flavor without being masked by too many seasonings. This recipe will sever 6 people, and takes only 20 minutes to prepare. Best of all, it only has 163 calories per serving.
In a large bowl, combine the crab, breadcrumbs, eggs, mayonnaise, mustard, chives, lemon juice, onion powder, hot sauce, and pepper. Form 6 patties.

In a large skillet, heat the oil and the butter over medium heat. Continue heating until the butter is no longer foaming. Cook for about 4 minutes, or until the patties are golden brown. Flip them, and cook the other side for another 4 minutes.

Toast the whole wheat buns, and put 1 teaspoon of tartar on each burger.